Description
IDEAL 4350 Electric Guillotine With Automatic Clamp
The IDEAL 4350 is an electronic operated guillotine for the office and small to medium size print or reprographical department, with easy blade and cutting stick change and automatic clamp
The IDEAL 4350 is an entry level floor standing electric guillotine, designed to handle formats up to A3. It includes the full IDEAL Safety Cutting System feature package which covers transparent hoods over front and rear tables, two-hand operation, and automatic blade return. The IDEAL 4350 has a maximum cut depth of 40mm for 500 sheets of paper, electric clamp and hand operated back gauge with digital read out.
Professional German-made IDEAL 4350, electric guillotine with automatic clamp and blade. Cuts up to 40mm height. Perfect for start-up print/design shops, schools, colleges, offices,
Main Features:
Electric operated guillotine for use as a table top machine or with optional stand or cabinet with storage shelf (as shown in photos).
Electronically controlled blade with two-hand operation.
With the same features as the IDEAL 4315 Guillotine but with the added addition of an automatic clamp.

Easy blade changing device without removing cover.

Easy cutting stick change from outside machine.

430mm cutting length (cuts upto A3 size paper long edge).

Spindle guided backgauge for precise positioning.

Fine adjustment by calibrated handle and side lay with measuring scale.

High quality blade made from "Solingen steel".

Blade depth adjustment from the outside of the machine.

Solid all metal construction with interlocking safety guard.

Transparent safety guards made from unbreakable Lexan on front & rear table.
https://www.youtube.com/watch?v=yonMi3UdWJ8
Transparent safety guard.
The hinged safety guard has to be closed to unlock the blade lever for the cutting process.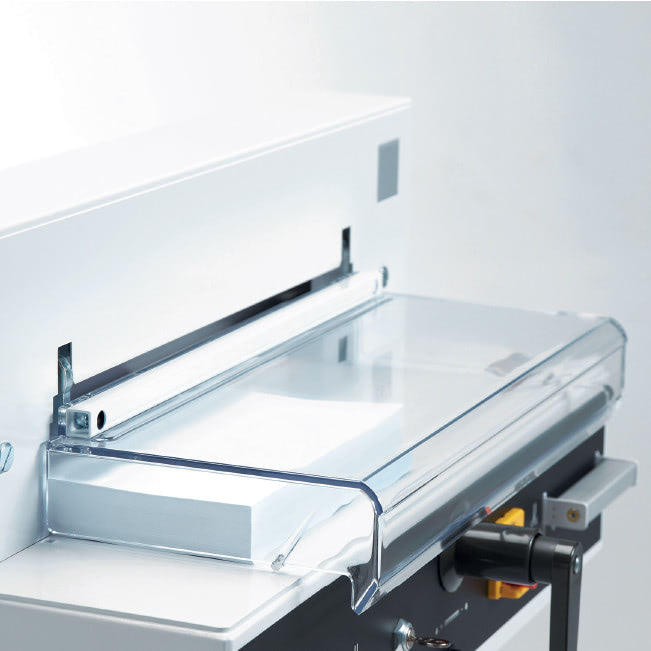 Hand crank.
The calibrated hand crank and the measuring tape on the side lay ensure the exact positioning of the backgauge.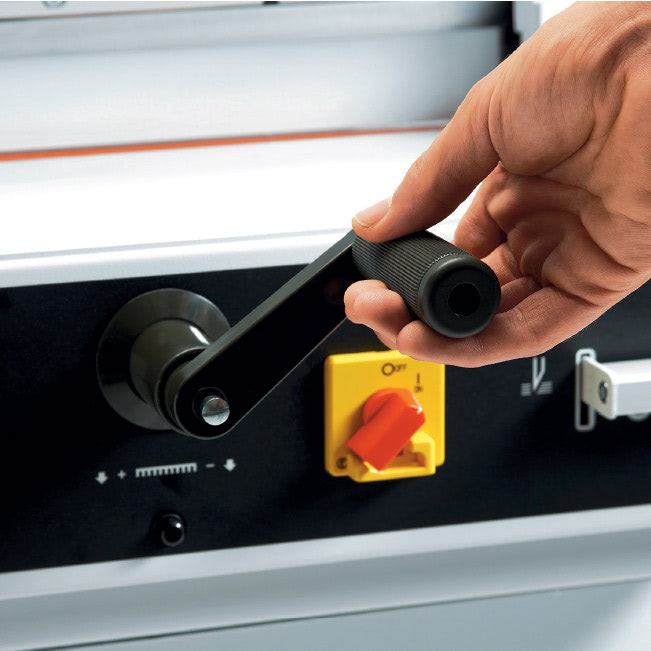 Patented EASY-CUT activating bars.
A cut can be executed conveniently by means of the patented EASY-CUT blade activating bars, which guarantee a safe two-hand operation.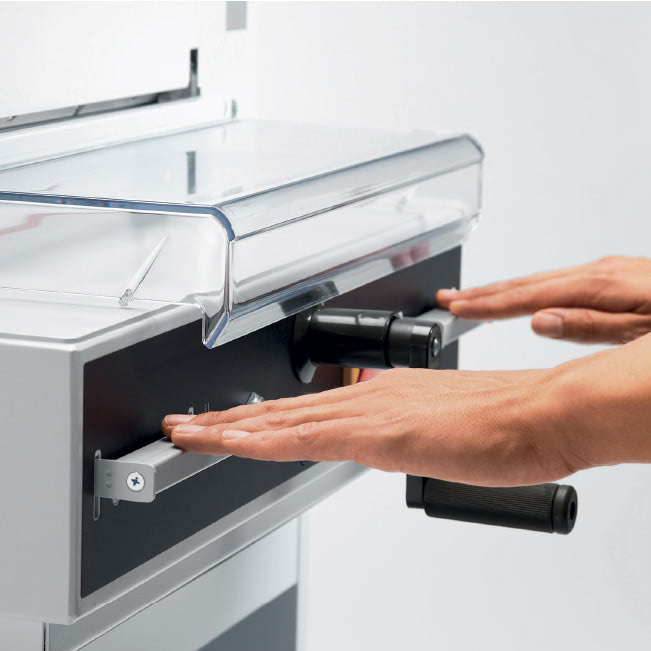 Digital measurement readout.
Easy-to-read digital display on the front table with switch-over from mm to inches by a push of a button.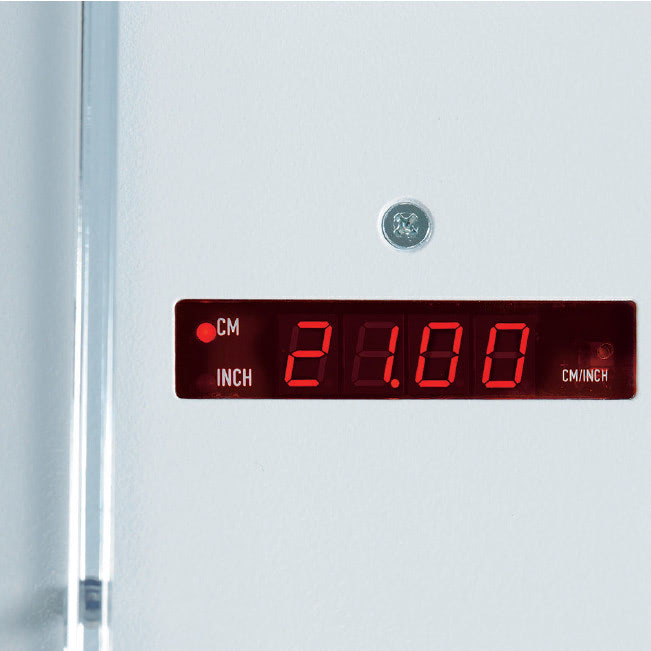 Safe blade change.
Safe and convenient blade change without removing covers. Blade changing device covers cutting edge of blade to protect the operator.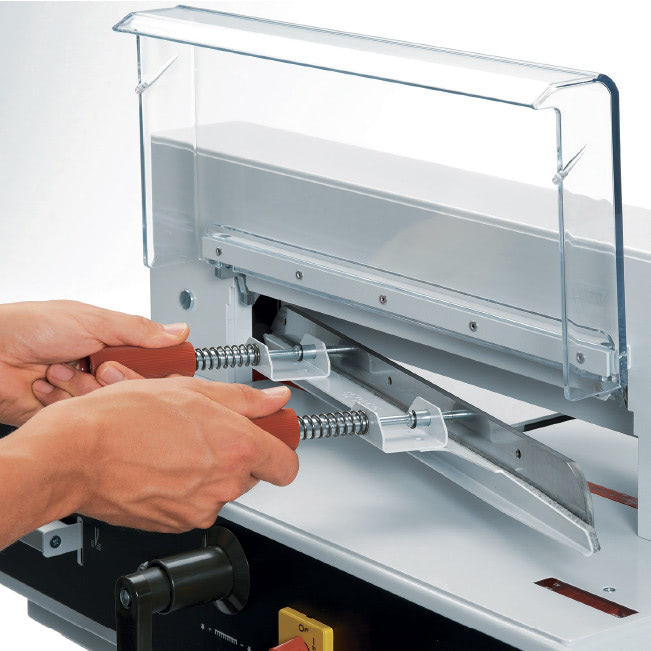 Cutting stick change.
Turning or exchanging the cutting stick can easily be managed from the outside of the guillotine without using any tools.
Highlights
•         Digital display for accurate positioning of cutting line
•         Optical cutting line from LED lamps
•         Fast action flick position clamp
•         40mm cutting depth
•         Maximum 430mm cutting length, 35mm minimum
•         Easy change cutting stick
•         Option of stand or cabinet
Typical Applications
•         Cutting sheets of paper to required print size
•         Providing leaflets and flyers with a professional finish
•         Trimming booklets
Click here to view Terms & Conditions
To pay by credit card, please call 1890 987 900